Canada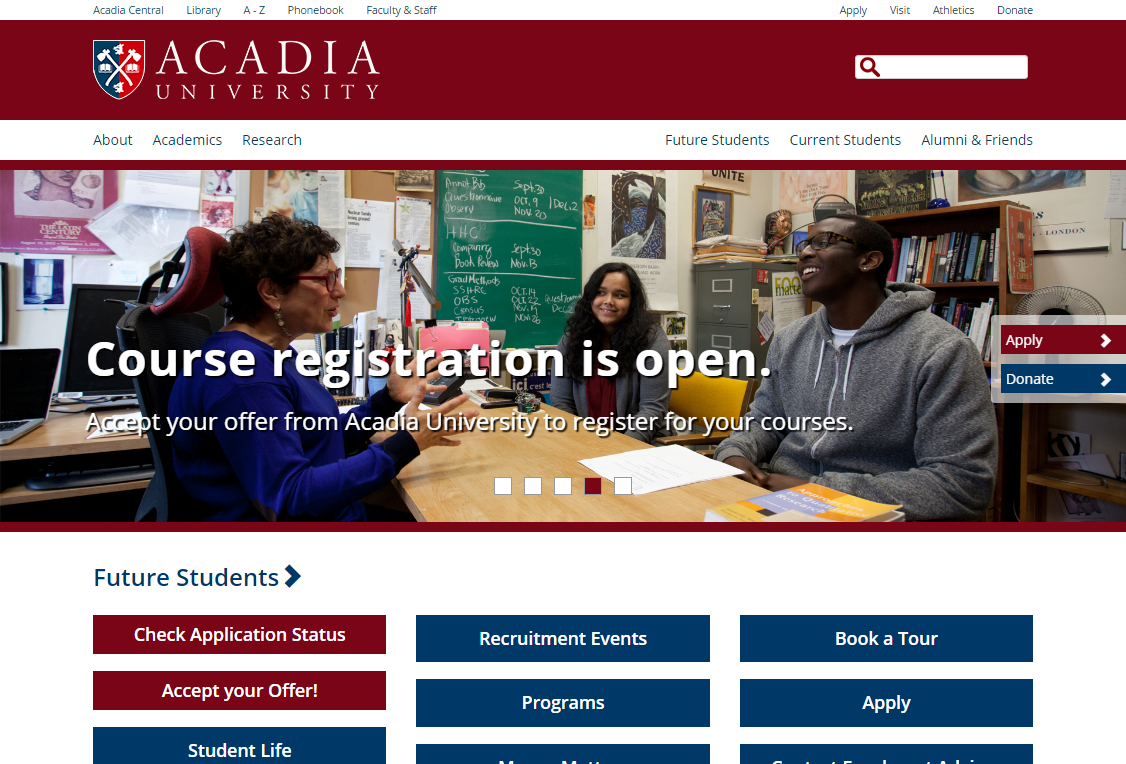 Region : Nova Scotia
City : Wolfville
Web site : www2.acadiau.ca
Acadia University is a predominantly undergraduate university located in Wolfville, Nova Scotia, Canada with some graduate programs at the master's level and one at the doctoral level. The enabling legislation consists of Acadia University Act  and the Amended Acadia University Act 2000. The Wolfville Campus houses Acadia University Archives  and the Acadia University Art Gallery. Acadia offers over 200 degree combinations in the Faculties of Arts, Pure and Applied Science, Professional Studies, and Theology. The student-faculty ratio is 15:1 and the average class size is 28. Open Acadia offers correspondence and distance education courses.
As a primarily undergraduate institution, the university places significant importance on teaching and instruction.
The mission of Acadia University is to provide a personalized and rigorous liberal education; promote a robust and respectful scholarly community; and inspire a diversity of students to become critical thinkers, lifelong learners, engaged citizens, and responsible global leaders.
Acadia University is consistently ranked among the top universities in Canada for undergraduate studies in the Maclean's comprehensive Canadian Universities rankings, coming second in Canada for the 2014 academic year and among the top five for the past decade. This has been attributed to Acadia's small class size and close relationships between the faculty and the students.
Acadia is organized into four faculties: Arts, Pure & Applied Science, Professional Studies and Theology. Each faculty is further divided into departments and schools specialized in areas of teaching and research.
The Division of Research & Graduate Studies is separate from the faculties and oversees graduate students as well as Acadia's research programs.
Acadia's research programs explore coastal environments, ethno-cultural diversity, social justice, environmental monitoring and climate change, organizational relationships, data mining, the impact of digital technologies, and lifestyle choices contributing to health and wellness. Acadia's research centres include the Tidal Energy Institute, the Acadia Institute for Data Analytics, and the Beaubassin Field Station. Applied research opportunities include research with local wineries and grape growers, alternative insect control techniques and technologies.
Sources : Wikipedia, www2.acadiau.ca