Canada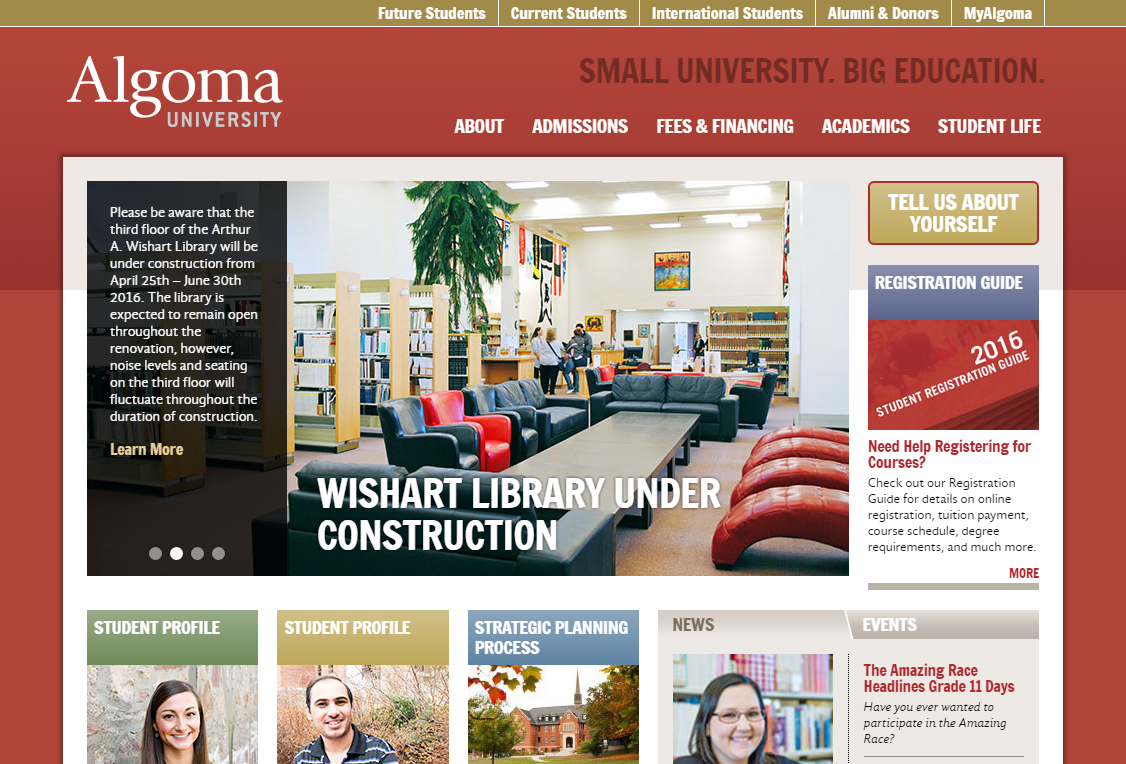 Region : Ontario
City : Sault-Sainte-Marie
Web site : www.algomau.ca
Algoma University (Algoma U) is a post-secondary institution in Sault Ste. Marie, Ontario, Canada. Established in 1965, Algoma University is the smallest undergraduate-only university in Ontario. With a particular focus on the needs of Northern Ontario, Algoma U is a teaching-focused and student-centred post-secondary institution, specializing in liberal arts, sciences, and professional degree programs. Located on the former site of the Shingwauk Indian Residential School, Algoma U has a special mission to provide and cultivate cross-cultural learning between Aboriginal populations and other communities. Algoma U also offers satellite programming in Brampton and Timmins, Ontario.
From its founding in 1965 until June 18, 2008, Algoma U was an affiliated college of Laurentian University in Sudbury and was officially known as Algoma University College. The enabling legislation is the Algoma University Act, 2008.
Algoma provides 30 plus programs - three and four year bachelor's degrees in disciplines such as social work, community development, English, history, psychology, sociology, biology, business, computer science, music and fine arts.
The university also offers extension programming in Timmins and Brampton.
The Algoma Conservatory of Music, which offers music lessons to about 1000 students in the community, has a working relationship with Algoma. Concurrently with Algoma's charter as an independent university, Shingwauk Kinoomaage Gamig, an Anishinaabe cultural and linguistic federated school opened in the fall of 2008.
The university has diploma-to-degree agreements with Cambrian College, Confederation College, George Brown College, Humber College, Mohawk College, Northern College, Sheridan College, Sault College and Seneca College, as well as a student exchange agreement with the University of the Sunshine Coast in Queensland, Australia.
Sources : Wikipedia, www.algomau.ca