Canada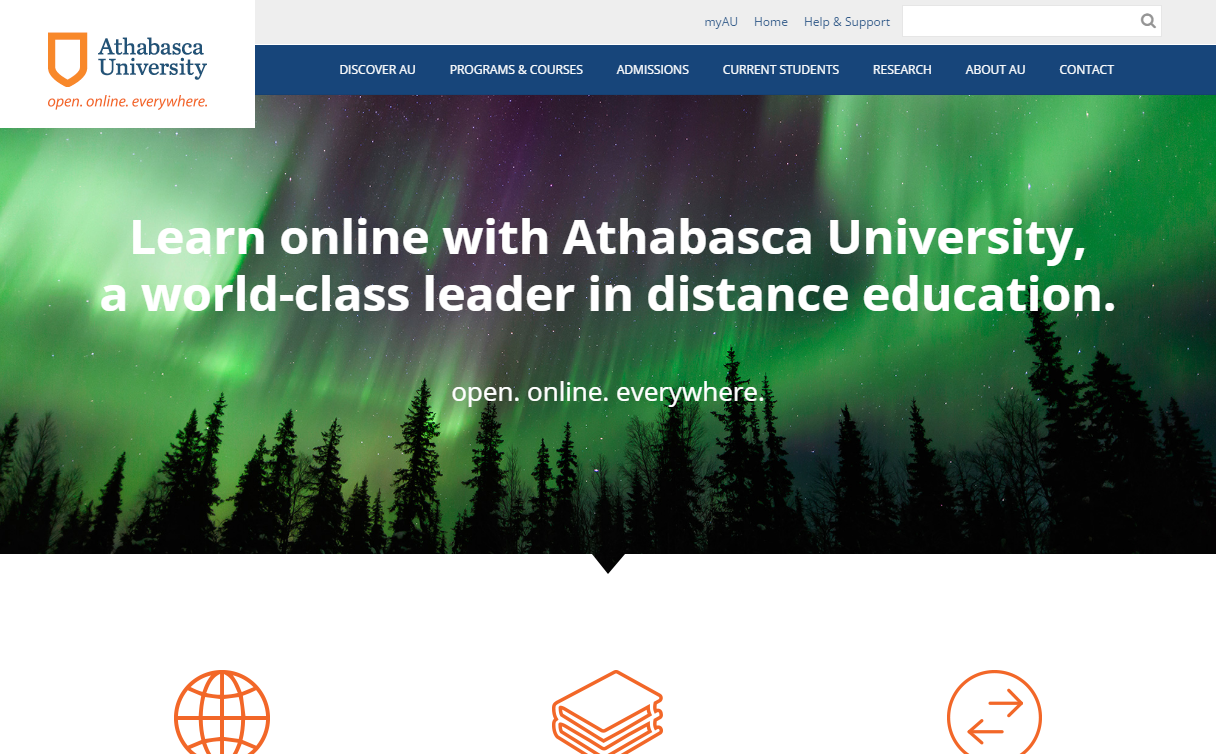 Region : Alberta
City : Athabasca
Web site : www.athabascau.ca
Athabasca University (AU) is a Canadian university specializing in online distance education and one of four comprehensive academic and research universities in Alberta. Founded in 1970, it was the first Canadian university to specialize in distance education.
The initial mandate for Athabasca University dictated that AU be primarily undergraduate in scope. Creating new procedures for curriculum development was also part of the mandate.
AU's mandate was later revised to include graduate studies as well, and the university has offered graduate programs and courses since 1994.
The majority of Athabasca University's courses are taught through online distance education, but some courses or components of courses are taught in-person, face to face. The major education delivery models at AU are as follows:
Individual study: Students are provided with the textbooks, computer software, and video material required. A preset recommended schedule comes with each course. Each course has a professor, as with any university course. This person publishes creates a series of learning activities, readings and assessments. That publication becomes additional reading and activity for the student. Assignments are submitted to the professor via email or more commonly via the Moodle assignment drop box. The final exam is administered by at Athabasca's learning centres or a partner university, college or accredited individual. Students have up to six months to finish their course, unless they have received a student loan, in which case, they have up to four months. Courses start at the beginning of each month. Most courses are now augmented with additional resources and activities using the Moodle LMS
Collaborative, online: Courses in the graduate programs are paced, usually beginning three times a year. The primary delivery platform is the Moodle Learning Management System, that is augmented by web conferencing using Adobe Connect and social networking using elgg-based Athabasca Landing
Grouped study: Offered primarily to students physically in Alberta, this method allows students to get together with other students in the same course, and study in a manner similar to that of a regular university. Students studying in this method have up to four months to complete their course. Courses start in September and January.
In addition to delivering courses and programs primarily through online distance education, Athabasca University has a Centre for Distance Education (CDE). The CDE, led by a core faculty and supported by additional sessional instructors, offers graduate-level courses and programs that teach other educators how to develop, design and deliver online education. The CDE is home to North America's first online Doctor of Education in Distance Education, and it also offers a Master of Education in Distance Education and post-baccalaureate certificates and diplomas in distance education technology, instructional design, and technology-based learning.
AU also sponsors the publication of the International Review of Research in Open and Learning, which is listed in the Social Sciences Citation Index and is a well-known and frequently cited scholarly journal in the field of distance and open education.
Athabasca University reports to the government through the Minister of Advanced Education and is publicly funded through the Province of Alberta. The university's governing council is authorized to grant degrees through the Post-Secondary Learning Act along with governing its own affairs. Members of the governing council are appointed by the Lieutenant Governor in council.
The university is accredited with the United States by the Commission on Higher Education of the Middle States Commission on Higher Education.
AU is Canada's only exclusively open university, and Maclean's Magazine called it Canada's fastest growing university. 50% of AU's students are between the ages of 25 and 44, and admissions are year round. AU hosts three Canada Research Chairs. 260,000 students have taken courses since the University was founded.
AU has 27,107 undergraduate students, with 77 undergraduate programs. Of that two are university diplomas, fourteen are university certificates and one is a certificate of completion.
AU?s has five faculties: Business, Health Disciplines, Humanities and Social Sciences, Science and Technology, and Graduate Studies. AU spends over $2 million per year on research. The university has four Canada Research Chairs, one NSERC/Xerox/Markin/ICORE Research Chair and one of six UNESCO/COL Chairs. The Athabasca University Research Centre is the primary centre at the university, along with the Technology Enhanced Knowledge Research Institute and the Centre for World Indigenous Knowledge and Research.
Sources : Wikipedia, www.athabascau.ca