Canada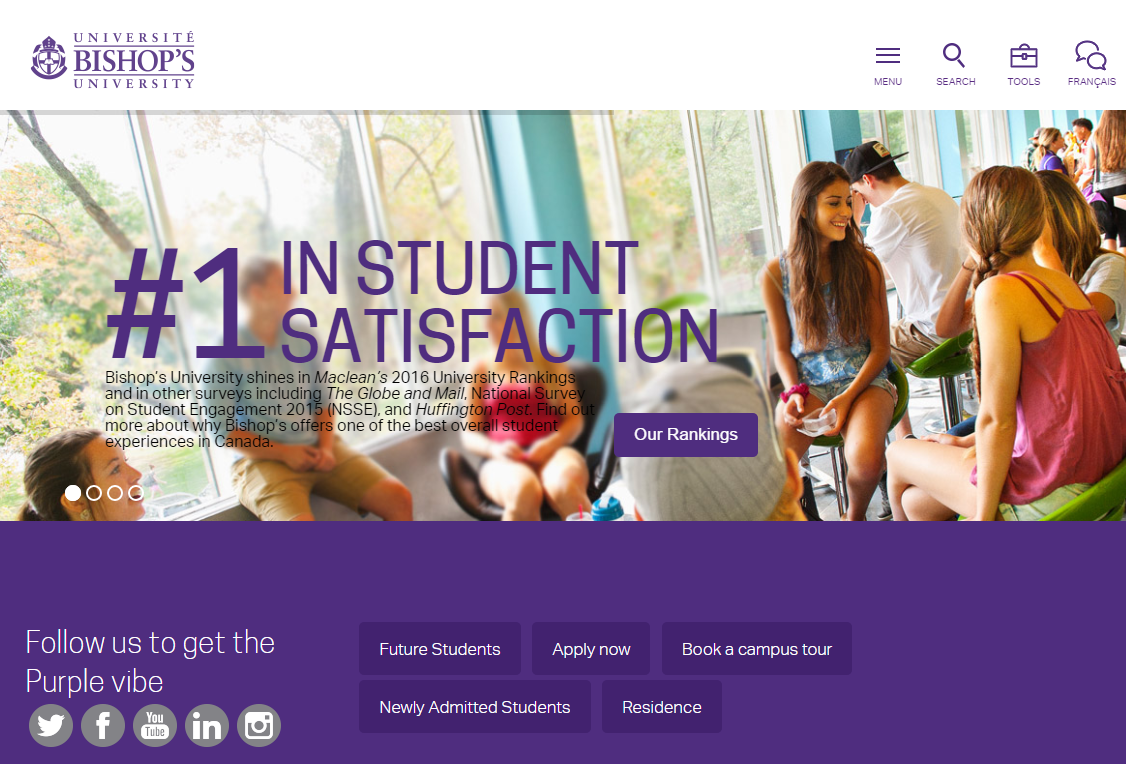 Region : Quebec
City : Sherbrooke
Web site : www.ubishops.ca
Bishop's University is a predominantly undergraduate university in Lennoxville, Sherbrooke, Quebec, Canada. Bishop's is one of three universities in the province of Quebec that teach primarily in English (the others being McGill University and Concordia University, both in Montreal). The university shares a campus with its neighbour, Champlain College Lennoxville, an English-language public college. It remains one of Canada's few primarily undergraduate universities. Established in 1843 as Bishop's College and affiliated with the University of Oxford and the University of Cambridge in 1853, the school remained under the Anglican church's direction from its founding until 1947. Since that time, the university has been a non-denominational institution. Bishop's University has graduated fifteen Rhodes Scholars.
Primarily undergraduate, Bishop's University also offers graduate courses and M.A. and M.Ed. degrees in education and M.Sc. in computer science and physics. Bishop's offers several programs from five academic divisions:
Williams School of Business
Division of Humanities
Division of Natural Sciences and Mathematics
Division of Social Sciences
School of Education
Each division seeks to provide a well-rounded education for all its students. The average class size as of fall 2004 was 36 in first-year courses and 12 in upper-year courses. Thirty-two percent of the classes offered at Bishop's have ten or fewer students, allowing each person's voice to be heard.
In 2004, Bishop's joined the Université de Sherbrooke in creating SIXtron, a joint spin-off of technology based in Montreal which is focused on developing highly scalable and cost-effective, amorphous silicon carbide (SiC)-based thin film coatings for the solar industry. In the fall of 2007 the university announced a strategic research plan which will position "Research and Creativity" as a central focus for the University's future development, making Bishop's unique among Canadian undergraduate institutions.
In 2009, the Psychological Health and Well-Being Laboratory was founded as an initiative to produce and share knowledge regarding how to enhance the psychological health and well-being of individuals and the communities that they live in. The research cluster is headed by Dr. Fuschia Sirois.
As of 2009, Bishop's has 1854 full-time students. The student body represents every Canadian province and territory along with 18 U.S. states and more than 50 countries.
The Williams School of Business is the business school at Bishop's University. It is accredited under the Network of International Business Schools (NIBS) and claims multiple first place victories in international business case competitions. It offers courses through a bachelor of business administration (BBA) or bachelor of arts (BA) major in business. A cooperative education program is also offered. Approximately 25% of Bishop's University students are enrolled in the Williams School of Business.
The Williams School of Business offers the following concentrations under the BBA:
Accounting
Entrepreneurship
Finance
Human Resources
International Business
Marketing
General Business Management
Sources : Wikipedia, www.ubishops.ca