Canada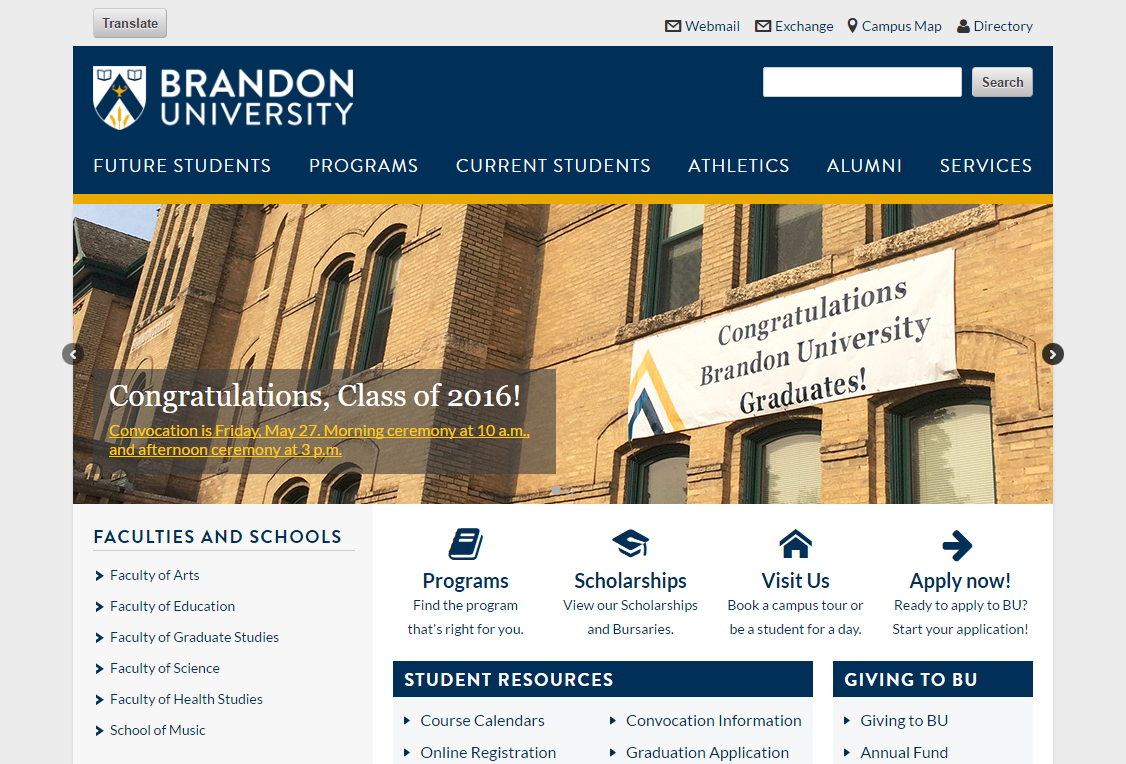 Region : Manitoba
City : Brandon
Web site : www.brandonu.ca
Brandon University is a university located in the city of Brandon, Manitoba, Canada, with an enrollment of 3073 (2015) full-time and part-time undergraduate and graduate students. The current location was founded on July 13, 1899, as Brandon College as a Baptist institution. It was chartered as a university by then President Dr. John E. Robbins on June 5, 1967. The enabling legislation is the Brandon University Act. Brandon University is one of a very few predominantly undergraduate liberal arts and sciences institutions in Canada.
The university is a member of the Association of Universities and Colleges of Canada (AUCC) and the Association of Commonwealth Universities (ACU), the Canadian University Society for Intercollegiate Debate (CUSID) and a member of U SPORTS. Brandon University has a student to faculty ratio of 11 to 1 and sixty percent of all classes have fewer than 20 students. In the 2015 Macleans rankings of primarily undergraduate universities in Canada, Brandon University was ranked 16th out of 19 overall and #1 in the student to faculty ratio category The school of music is rated one of the best in Canada. The university press, The Quill, is a member of CUP.
Faculties, schools, departments, and research centres
Faculty of Arts

Aboriginal and Visual Arts, Anthropology, Business Administration, Drama, Economics, English, Gender and Women's Studies, History, Classical and Modern Languages, Native Studies, Philosophy, Political Science, Religion, Rural Development, Sociology

Faculty of Education

Administration and Educational Services, Curriculum & Instruction: Humanities, Curriculum & Instruction: Math/Science, Department of Educational Psychology and Foundations, Physical Education, Music Education, Graduate Studies

Faculty of Graduate Studies

Graduate Diploma in Education, Master in Education, Music Graduate Program, Master of Psychiatric Nursing, Master in Rural Development, Graduate Diploma in Rural Development

Faculty of Science

Applied Disaster & Emergency Studies, Biology (Botany & Zoology discontinued in 2009), Chemistry, Environmental Science, Geography, Geology, Mathematics and Computer Science, Physics and Astronomy, Psychology

Faculty of Health Studies

Nursing, Psychiatric Nursing, Mental Health, Indigenous Health and Human Services, First Nations and Aboriginal Counselling

School of Music

Honours (General Studies), Performance, Education, Jazz Studies, Graduate Studies in Performance, Music Education and Composition

Research Centres

Rural Development Institute (RDI)
Environmental Science Laboratories
Micro Analytical Facility
Study of Cultural Adaptations in the Prairie Ecozone (SCAPE)
Brandon University Centre for Aboriginal and Rural Education (BU CARES)
The university's sports teams in U SPORTS are called the Brandon Bobcats. Brandon University competes in basketball (men/women) and volleyball (men/women). Brandon University used to field a men's hockey team in the CIAU, however, that ceased in 2000.
In the 2006-07 academic year, the Bobcats advanced to the Canadian Basketball Finals. They placed second to Carleton University, in a hard fought 52-49 game.
In 2016, the Bobcats hosted the CIS National Women's Volleyball Championship.
Sources : Wikipedia, www.brandonu.ca