United States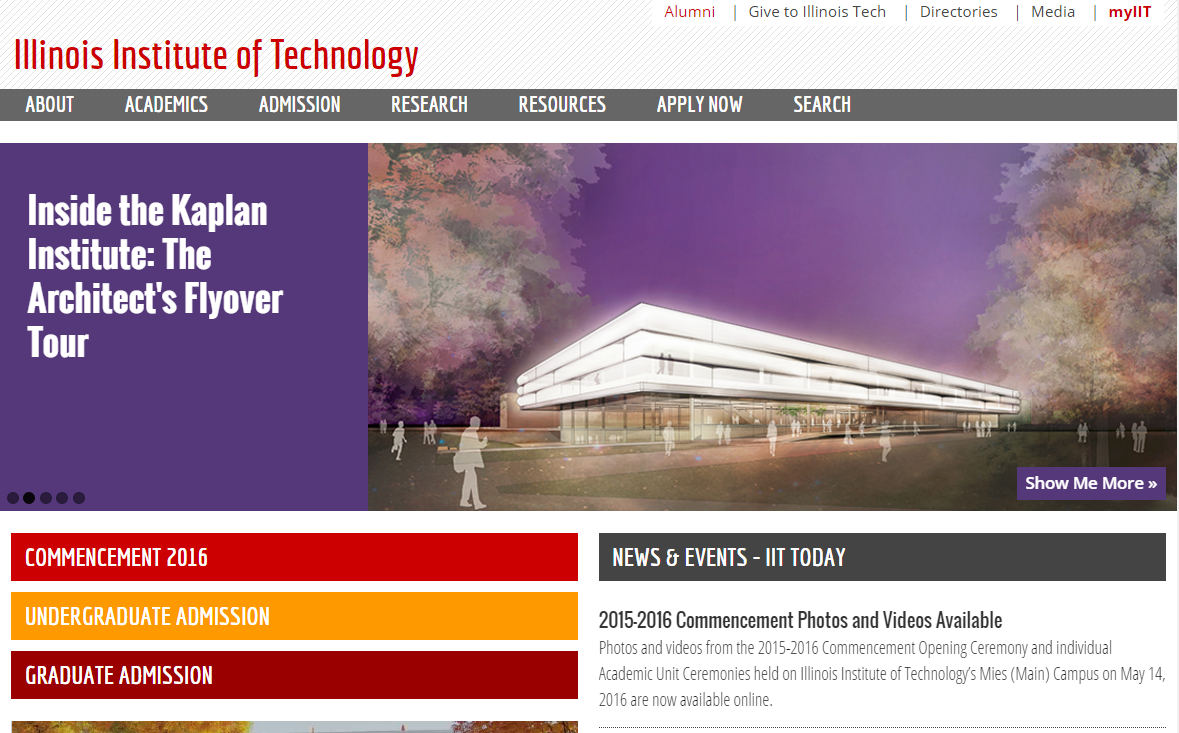 Region : Illinois
City : Chicago
Web site : web.iit.edu
Illinois Institute of Technology, commonly called Illinois Tech or IIT, is a private Ph.D.-granting research university located in Chicago, in the U.S. state of Illinois, with programs in engineering, science, psychology, architecture, business, communications, industrial technology, information technology, design and law. It traces its history to several 19th century engineering and professional education institutions.
The university and its contract research affiliate, IIT Research Institute (IITRI), have an annual research volume of $130 million. Current research strengths include fluid dynamics and aerospace, synchrotron radiation science, environmental engineering and regulatory policy, polymer science and recycling, food safety and technology, and transportation and infrastructure.
IIT has more than 40,000 living alumni and is known as the alma mater of accomplishments as well as of people. IIT and IITRI scientists and engineers have made some of the century's most important technological advances, such as the invention of magnetic recording and the development of re-entry technology for spacecraft. IIT architects have shaped the skyline of Chicago and cities throughout the world.
IIT Research Institute has several locations throughout the United States, and the university has five campuses in the Chicago area. The 120-acre Main Campus, centered at 33rd and State Streets in Chicago, as well as many of its buildings, was designed by Ludwig Mies van der Rohe, who directed the architecture program at IIT from 1938 to 1958 and was one of the 20th century's most influential architects. In 1976, the American Institute of Architects recognized the campus as one of the 200 most significant works of architecture in the U.S.
S. R. Crown Hall, home of IIT College of Architecture, was named a National Historic Landmark in 2001, and part of the IIT
Academic units
IIT is divided into: five colleges (Armour College of Engineering, College of Science, Lewis College of Human Sciences, College of Architecture, Chicago-Kent College of Law), an institute (Institute of Design), two schools (School of Applied Technology, Stuart School of Business), and a number of research centers, some of which provide academic programs independent of the other academic units. While many maintain undergraduate programs, some only offer graduate or certificate programs.
In 2003, IIT administrators split the former Armour College of Engineering and Science into two colleges known as the Armour College of Engineering and the College of Science and Letters.
In 2013, IIT administrators reorganized the College of Science and Letters and Institute of Psychology, forming the College of Science (Department of Applied Mathematics, the Department of Biology, the Department of Chemistry, the Department of Physics, the Department of Computer Science, and the Department of Mathematics and Science Education),
The Institute of Design was founded in 1937 as the New Bauhaus: Chicago School of Design by László Moholy-Nagy. It became known as the Institute of Design in 1944 and later joined Illinois Institute of Technology in 1949.
IIT also contains the College of Architecture. This College began in 1895 when trustees of Armour Institute and Art Institute merged the architectural programs of both schools to form the Chicago School of Architecture of Armour Institute.
The School of Applied Technology was founded as the Center for Professional Development in 2001 in order to provide technology oriented education for working professionals.
Chicago-Kent College of Law began in 1886 with law clerks receiving tutorials from Appellate Judge Joseph M. Bailey in order to prepare for the newly instated Illinois Bar Examination. By 1888 these evening sessions developed into formal classes and the Chicago College of Law was established.
With a bequest from IIT alumnus and financier Harold Leonard Stuart the IIT Stuart School of Business was established in 1969. In addition to the M.B.A. and Ph.D., IIT Stuart offers specialized programs in Finance, Mathematical Finance (provided in conjunction with the IIT Department of Applied Mathematics), Environmental Management and Sustainability (provided in conjunction with the IIT Chicago-Kent College of Law and Department of Civic, Architectural, and Environmental Engineering), Marketing Communications, and Public Administration. The PhD program in Management Science offers specializations in Finance and Analytics.
IIT also offers many dual admission programs including programs in medicine, optometry, pharmacy, law, and business. The programs in medicine are particularly competitive and include an 8-year program with Midwestern University leading to a D.O. degree and a 6-year program with Rush University leading to a M.D. degree, both of which are earned after satisfactory completion of a bachelor's degree from IIT. The IIT/Midwestern program accepts anywhere from 5-10 students each year, and the IIT/Rush program accepts anywhere from 0-4 students each year.
Rankings and Recognition
IIT was featured on Princeton Review's 2014 list of 378 best colleges in the United States and on its list of Best Midwest Colleges.
IIT was ranked as a tier 1 university being the 108th best university nationally (climbing four places up from the previous year), and the fourth best university in the Chicago metropolitan area (after the University of Chicago, Northwestern University, and Loyola University Chicago), based on U.S. News & World Report's "Best Colleges 2014."
IIT was featured as #24 on Newsweek's College Rankings 2012: Most Rigorous Schools list.
IIT was ranked the 72nd best graduate school for engineering in U.S. News & World Report's "Best Graduate Schools 2014."
IIT-Kent was ranked as a tier 1 law school being the 68th best law school nationally (5th in Trial Advocacy, 11th in Intellectual Property Law, and 21st in Part-time Law) based on U.S. News & World Report."
According to the U.S. News & World Report, IIT's Aerospace Engineering was ranked 21, Materials Engineering was ranked 59, Chemical Engineering was ranked 60 and Biomedical Engineering was ranked 61.
Payscale ranked IIT #5 among Midwestern universities for the salary potential of its graduates who earn a bachelor's degree.
IIT Institute of Design has achieved worldwide recognition as one of the world's top design schools.
IIT was designated in 2015 as a National Center of Academic Excellence in Cyber Defense Education by the U.S. Department of Homeland Security and the National Security Agency, acknowledging the substantial focus on cybersecurity and digital forensics in formal degrees, certificates, and specializations in programs offered by the School of Applied Technology.
Sources : Wikipedia, web.iit.edu