United States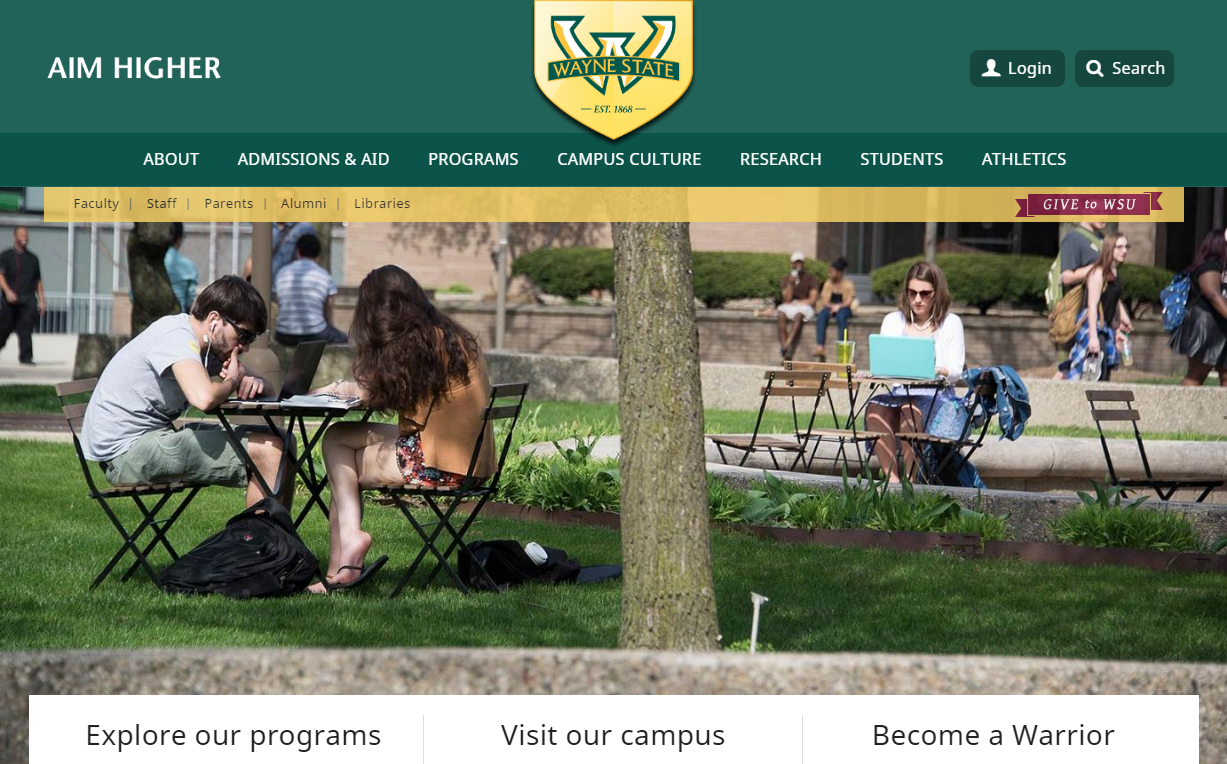 Region : Michigan
City : Detroit
Web site : www.wayne.edu
Wayne State University (WSU) is an American public research university located in the Midtown Cultural Center Historic District of Detroit, Michigan. Founded in 1868, WSU consists of 13 schools and colleges offering more than 380 programs to nearly 28,000 graduate and undergraduate students. It is currently Michigan's third-largest university and one of the 100 largest universities in the United States.
The WSU main campus encompasses 203 acres (82 ha) linking more than 100 education and research buildings in the heart of Detroit. It also has six extension centers in the metro Detroit area providing access to a limited selection of courses. The institution is a notable engine in metro Detroit's educational, cultural and economic landscape, as manifested through efforts such as its thriving research and technology park and hosting of the Detroit Windsor International Film Festival.
Academic profile
Wayne State's comprehensive academic offerings are divided among 13 schools and colleges: the Mike Ilitch School of Business; the College of Education; the College of Engineering; the College of Fine, Performing, and Communication Arts; the Graduate School; the Law School; the College of Liberal Arts and Sciences; the College of Library and Information Science; the School of Medicine; the College of Nursing; the Eugene Applebaum College of Pharmacy and Health Sciences; the Irvin D. Reid Honors College; and the School of Social Work. Fall 2015 enrollment for the university consisted of 17,669 undergraduates, 7495 graduate students and 2058 professional school students adding up to 27,222 students, down from 27,578 students from before. WSU also has the third-largest international enrollment in Michigan, with more than 2,400 students from 65 countries. The School of Medicine was the first in the country to implement a comprehensive radiology curriculum intertwined throughout the four-year M.D. course as an extension of the Advanced Diagnostic Ultrasound in Microgravity Study.
Wayne State University is Michigan's only urban research university and is renowned particularly for its contributions in the sciences. Wayne State University is classified as a research university with the highest research activity by the Carnegie Foundation, the same classification as the University of Michigan - Ann Arbor, Michigan State University, Harvard, and Stanford. The university also holds the Carnegie Foundation's prestigious Community Engagement classification for its commitment to the metro Detroit area. Wayne State is a constitutionally autonomous educational institution in the state of Michigan, along with Michigan and Michigan State.
The university dropped mathematics as a general education requirement students must take to graduate, effective June 13, 2016. Its faculty has proposed a new, mandatory three-credit hour diversity course for students to pass before allowed to graduate.
Colleges and schools
Wayne State offers more than 380 undergraduate, post-graduate, specialist and certificate programs in 13 schools and colleges.
Professional schools
Mike Ilitch School of Business
The Mike Ilitch School of Business offers undergraduate degrees in accounting, finance, global supply chain, information systems, management and marketing. At the graduate level, it offers M.B.A. and M.S. degrees in accounting and taxation, and a Ph.D. with tracks in finance, management and marketing. These programs are fully accredited by The Association to Advance Collegiate Schools of Business (AACSB). Less than five percent of the more than 11,000 business schools worldwide are AACSB-accredited. More than 31,000 business alumni can be found around the world, developing innovative entrepreneurial ventures, managing multinational corporations and making a difference in nonprofit and government agencies.
The College of Education prepares effective urban educators who are reflective, innovative and committed to diversity. With nearly 40 program areas, from teacher certification to counseling education and many disciplines in between, the college reflects the dynamic character of urban life and is sensitive to the special experiences, conditions and opportunities presented by a culturally diverse student body. The college and its administrators, faculty and staff are dedicated to preparing professionals who can contribute in meaningful ways to a global, technology-oriented society by helping them acquire the knowledge, skills and attitudes necessary to succeed in their chosen careers in education, health, counseling and more. To achieve this mission, the College of Education is dedicated to excellence in teaching, research and service, and to undertaking continuous improvement to keep its programs relevant, up-to-date and technologically innovative.
Established in 1933, College of Engineering faculty generate approximately $20 million annually in research expenditures, particularly in areas of biomedical engineering and computing; advanced materials and flexible manufacturing; and green technologies such as alternative energy technology, alternative energy, and advanced battery storage. The college offers a range of engineering disciplines, including prominent several research areas in which faculty members focus on interdisciplinary teamwork and industry partnerships ? alternative energy technology, automotive engineering, electric-drive vehicle engineering, environmental infrastructures and transportation engineering, materials and biomedical engineering, bioinformatics and computational biology, nanotechnology and sustainable engineering.
College of Fine, Performing and Communication Arts
Established in 1986, the College of Fine, Performing and Communication Arts (CFPCA) educates the next generation of visual artists, musicians, communication professionals, designers, art historians, actors and dancers. The college offers 16 undergraduate programs 10 graduate programs and three graduate certificates through its departments: the James Pearson Duffy Department of Art and Art History, the Maggie Allesee Department of Theatre and Dance and the departments of communication and music. The departments of music and theatre/dance are nationally accredited.
Irvin D. Reid Honors College
The focus of the first year is community and the urban experience; during year one, students concentrate on urban issues and history. Year two involves service learning, which takes skills cultivated in the classroom and puts them to use in real-world situations. In year three, students are encouraged to work with faculty mentors to develop individual funded research projects. And in year four, students complete a senior thesis. The Honors College is home to Scholars Day, MedStart, Health Pro Start and BStart, the Urban Scholars/Leaders program, CommunityEngagement@Wayne, Honors Transfer, and the Detroit Urban Scholars program.
Established in 1927, the Law School became a part of the university in 1937. It is Detroit's only public law school and one of just two public law schools in Michigan. Wayne Law blends cutting-edge legal theory with real-world practice skills through eight legal clinics, four externship programs, local and international fellowships and internships, and numerous co-curricular programs, including moot court, scholarly journals and trial advocacy. Its location ? minutes away from courts, major law firms, government agencies, corporate headquarters and the nation?s busiest international border ? offers incomparable opportunities in employment, hands-on experience and public service. The Law School?s civil rights, entrepreneurship, environmental and international programs, and their related clinics, set Wayne Law apart as an advocate for justice committed to serving the community. The Law School?s Damon J. Keith Center for Civil Rights in 2014 established the Detroit Equity Action Lab bring together 60 organizations to address issues of structural racism in Detroit. In 2015, the Law School launched the Levin Center at Wayne Law. The goal of the Levin Center is to educate future attorneys, business leaders, legislators and public servants on their role overseeing public and private institutions and using oversight as an instrument of change.
College of Liberal Arts and Sciences
The College of Liberal Arts and Sciences (CLAS) was formed in 2004 with the merger of the College of Liberal Arts and the College of Science. The college receives approximately $20 million a year in external grants and contracts. The College of Liberal Arts and Sciences (CLAS) consists of 19 departments in Humanities, Social Sciences, Physical Sciences and Mathematics, and Life Sciences categories. Programs include African American Studies, Anthropology, Biological Sciences, Chemistry, Classical and Modern Languages, Literatures and Cultures (CMLLC), Communication Sciences and Disorders (CSD), Criminal Justice, Economics, English, Geology, History, Mathematics, Nutrition & Food Science, Philosophy, Physics and Astronomy, Political Science, Psychology, Sociology, and Urban Studies & Planning. CLAS is the core and hub of Wayne State, providing most of the undergraduate instruction, including almost all of the general education and pre-professional curricula for undergraduates, and a variety of graduate programs that produce many master's degrees and almost half of the Ph.D. degrees awarded at the university. Faculty in CLAS engage in research in a wide range of fields, in several nationally ranked departments, with robust extramural funding.
School of Library and Information Science
For more than 90 years, the School of Library and Information Science has prepared leaders for the evolving information profession. Through its master's degree and certificate programs, the School prepares professionals for leadership roles in libraries and other information organizations. By emphasizing the practical application of knowledge and skills, it educates students in the core principles of information management ? information access, organization, services and support ? as well as emerging fields like digital collections, competitive intelligence, information architecture and data analytics. The school?s faculty research issues that improve library and information services as an essential component to cultural enrichment, knowledge dissemination, economic development and the overall quality of life. The American Library Association first accredited the master of Library and Information Science (MLIS) degree in 1967. The MLIS degree is available online with select classes also offered on campus.
Founded in 1868, the Wayne State University School of Medicine (SOM) trains the next generation of physicians, the school offers master?s, Ph.D. and M.D./Ph.D. programs in 14 areas of basic science and public health to about 400 students annually. The school?s research emphasizes neurosciences, pediatrics, obstetrics and gynecology, perinatology, cancer, cardiovascular disease including diabetes and obesity, and psychiatry and addiction research. Research funding levels in 2014, including all grants and contracts from government agencies, private organizations and pharmaceutical companies, was $94.5 million. One of the school?s major assets is the Richard J. Mazurek, M.D., Medical Education Commons, which was designed specifically for students and houses classrooms, student services divisions, the medical library, a sophisticated patient simulation center and the Kado Family Clinical Skills Center.
Established in 1945, the College of Nursing shares the university?s research, teaching and community enrichment missions. The college is committed to providing an exceptional nursing education. Its faculty conducts innovative research that helps build the scientific foundation for clinical practice, advances preventive care, manages symptoms of illness, enhances end-of-life and palliative care, and influences the development of health care policy at all levels. Reflecting its location in a culturally diverse metropolitan area, the college is particularly concerned with reducing health disparities and improving health outcomes among minority populations.
Eugene Applebaum College of Pharmacy and Health Sciences
Established in 1924, the Eugene Applebaum College of Pharmacy and Health Sciences is one of the founding colleges of Wayne State University. It is organized into four departments ? fundamental and applied sciences, health care sciences, pharmacy practice and pharmaceutical sciences. It offers 11 fully accredited degree-granting programs,which maintain autonomous admission requirements, curricula, degree requirements and academic procedures.
Established in 1935, the school offers academic programs at the bachelor?s, master?s and Ph.D. levels. The school?s Center for Social Work Research provides support for faculty research and scholarship, engages in relevant research with community partners, and offers consultation and technical assistance. In 2014-15, faculty submitted proposals valued at over $10 million, including an $113,400 annual grant from the Michigan Department of Health and Human Services for the Transition to Independence Program (TIP), a comprehensive support program for foster care youth enrolled at Wayne State University.
Rankings
Several of Wayne State's individual programs are well regarded:
U.S. News and World Report ranks Wayne State's Law School as a Top 100 law school, and the second-highest ranked law school in Michigan
U.S. News and World Report also ranks the College of Nursing as one of the top nursing program's in the country
The Eugene Applebaum College of Pharmacy and Health Sciences was ranked one of the 50 best pharmacy schools in the country by Pharmacy Times
The Department of Chemistry was recently ranked among the top 150 chemistry departments in the world.
The Department of Industrial and System Engineering was ranked 42nd in the country by U.S. News Grad School Ranking in 2015.
The Department of Physics and Astronomy, The Department of Mathematics, are all ranked among top 200 in the world.
The School of Social Work has been ranked 38th in social work in the U.S. News Grad School Health Programs Rankings.
Wayne State University is listed as one of the top 34 percent of global universities by U.S. News and World Report
The Irvin D. Reid Honors college named in honor of the university's ninth president, affords students the opportunity to become immersed in the Detroit community, participate in service learning and perform meaningful undergraduate research.
The Mike Ilitch School of Business is annually listed as an outstanding business school, according to The Princeton Review, which ranks the top Master of Business Administration (MBA) programs.
The medical school is ranked #69 by U.S. News & World Report in the nation for research.
Research
At $218.4 million spent annually on research expenditures, Wayne State ranks among the nation's top universities for research according to the National Science Foundation. Additionally, Wayne State has received the Carnegie Foundation's ranking as a doctoral-granting university with the highest research activity.
On October 13, 2015, Wayne State University opened its new $92 million, 207,000-square-foot Integrative Biosciences Center (IBio). As many as 500 researchers, and staff will work out of the IBio Center located in New Center at 6135 Woodward Avenue.
Sources : Wikipedia, www.wayne.edu